Show someone how much you love and care for them with a Gift Certificate. Now available at the store.
About Me
Doris Lynch

Hello and welcome to my blog. My name is Doris Lynch, I live in Queens, New York. I am married, have a beautiful teenage daugther, I am a pet groomer and have three dogs. On my spare time I love working with PSP and Photoshop. I opened this blog to share with others what I create. Hope you enjoy my kits and creations as much as I enjoy making them. Feel free to grab what you like and please leave a comment to get to know you. Looking forward to meeting and sharing with you. Thank you, Doris metbrini@gmail.com
View my complete profile

CU4CU License
$10.00 Please read my
TOU
before you purchase. Email me at scrapsdimensions2@gmail.com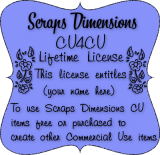 Copyright
My freebies or PTU's are not public domain. Do not share anything in this blog from other servers. Always send people to my blog to download my freebies here. Credit is required if you use my creations. Always read my
TOU
for the latest update. Thank you.

Categories

Tubes Licenses
My Free CU License
You must place this license in your site with a link back if you use my free Commercial Use items. Thank you.

Facebook Badge

Designer Blogs

Tutorials Blogs

Blogroll

Archives